Choosing the right equipment is not always easy, especially when you are not an expert in the field. However, choosing the right equipment for your level maximizes your sliding experience, allowing you to enjoy your holiday in the mountains more. Are you unsure about which Pack of skis and boots you should choose? Here is a little guide to our complete range; skis, boots, snowboards, childrens equipment, helping you choose the best option for you…
The 3 Ski Hut Adult Packs
At Ski Hut, you have the choice between 3 different adult categories: Beginner, Intermediate or Advanced:
– Beginner: You have little or no experience on skis. Are you on green or easy blue runs, are you not going fast and find turning difficult? Our Beginner Pack is perfect for you and you'll progress beautifully. The skis have an injected foam internal structure making them lightweight and easier to move and turn on the slopes. They are a great option for skiing with your children on beginner runs and following them at their pace. Please remember the best height for beginner skis is no higher than chin level. Also don't go too short, skis that are too short do not have the same center of gravity and you can become unbalanced more easily. Beginner skis are generally thinner to allow for an easier change from edge to edge when turning.

– Intermediate: Skiing is a wonderful hobby for you and you probably do one week or two weeks a year with friends or family. You know how to link your turns together and move at a comfortable medium speed on the slopes. You are generally happy on all pistes. Your goal? To build on your technique and gain more confidence when going quicker. If you recognise yourself in this description, choose our Intermediate Pack, they will help you push yourself on the slopes without losing control. Intermediate skis are a little heavier and bulkier than beginner skis. They are ideal for skiing on all slopes, but also great for playing in the fresh powder on the edge of the slopes too, and you can even use them in the snowpark for basic jumps. The ideal size for Intermediate skis is your height. They'll allow you to advance in performance and stability.

– Advanced: You are at one with the snow and parallel turning to perfection! Every patch of snow calls out to you, both on and off-piste, and you can't resist the temptation. Our Advanced level of skis is the perfect solution for you. These skis will become your allies for the week, aiding you in all circumstances. Much larger than those in our other categories, these skis cover a larger volume per cm2, helping you to not sink and ride that fresh powder like a God. If you're interested in freestyle, make sure you choose skis that are not too big to help with your twists and rotations. Twin Tips are used for this specific type of discipline as they make landing or skiing backwards much easier. For you off-piste enthusiasts, the skis should be taller than you, helping to give you more lift on soft snow.
Good news: We have all these types of skis in our Ski Hut stores in La Plagne and Val d'Isère.

Equipment For Children
Ski Hut offers two ski Packs designed for children too. For the little ones (2-6 years old), our in resort ski technicians will offer the right equipment for their level, so they can discover skiing in the best conditions; small skis, small boots (and small poles if necessary). For the older children (7-12 years old), equally suitable equipment is available to rent. These skis are more stable, yet still light in weight, and they'll allow your child to progress with confidence while having maximum fun.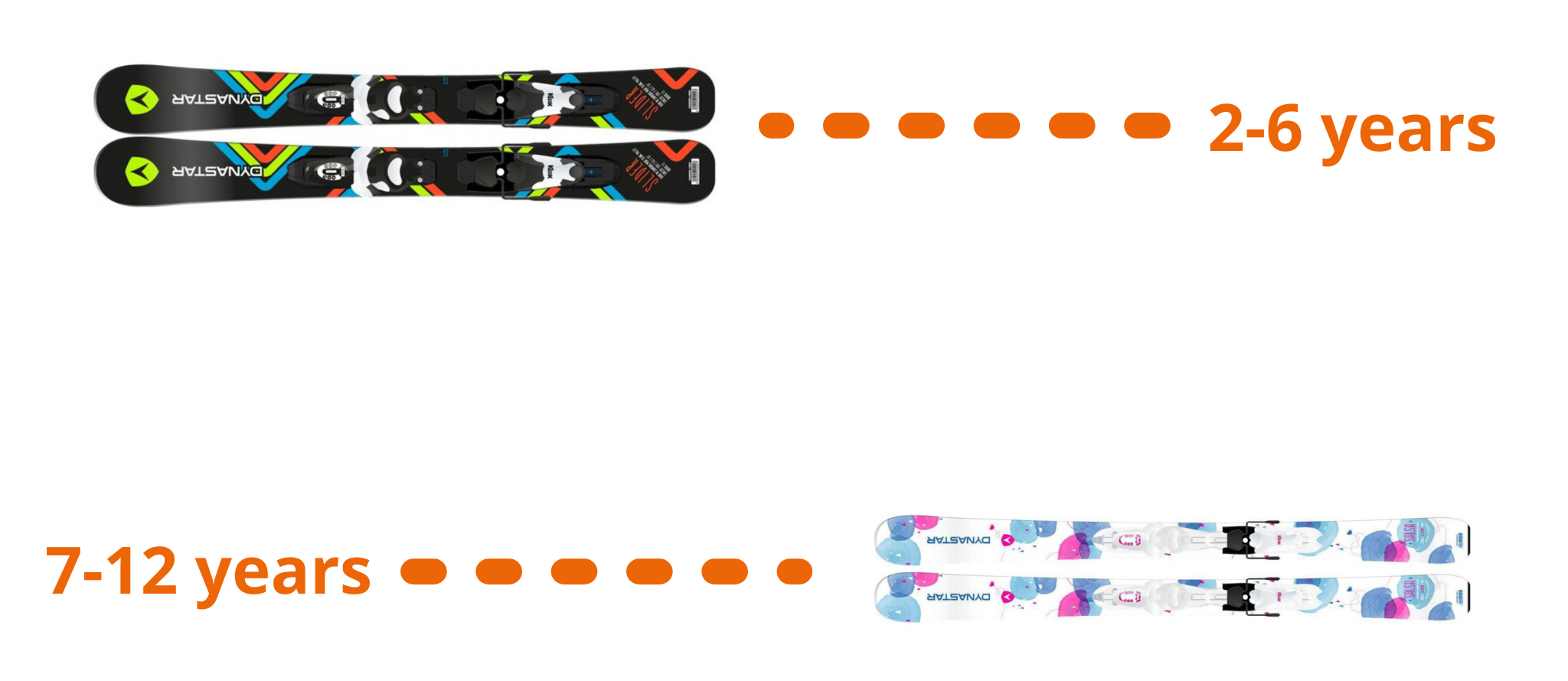 Skis…and snowboards
For snowboard enthusiasts (beginners to advanced), Ski Hut also has exactly what you need! In resort our technicians will chat with you and find out your level. They'll offer you the most suitable snowboard to suit your profile, and to ensure your riding on (or off) the slopes is maximised. Depending on your level choose between small or large boards, from soft to rigid, yes, we have something for everyone. Don't waste anymore time, book now and then head to our Ski Hut shop to pick up your equipment… The slopes are waiting for you!
As you can see we have everything for everyone here at Ski Hut. And if you still have doubts, pop into one of our resort rental shops and chat to our expert ski technicians. Have fun on the slopes.